Flooding is not a new issue with Filipinos. The Philippines' geographical location had always made the country prone to experiencing heavy rains and yearly torrential rain showers that more often than not result in flooding. As a country, the Philippines can not escape its vulnerability to heavy rainfall. That's why it is important for Filipinos, especially those located in flood-prone areas, to be prepared when disaster strikes. 
For disaster preparedness, it is important to know first if your location is prone to it. Knowing if your area is prone to landslides, earthquakes, and flooding is essential in order to know what exactly is the first thing you should be prepared for. In this article, we will discuss some of the most prominent flood-prone areas in Metro Manila, as well as the places you should avoid when driving during heavy rainfall. 
Most Flood-Prone Areas In Metro Manila As Of 2023
Just last June 2023, residents of Barangay Desamparados in Iloilo City were forced to evacuate their homes due to floods caused by Typhoon Betty. The flood was knee-level and around 500 people were displaced due to lack of sufficient water drainage in the area. In Metro Manila, this scenario is also common, especially in densely populated areas of the region. Below is a list of the most common flood-prone cities in Metro Manila.
Parañaque
In Metro Manila, flooding happens quite frequently. However, one city that experience flooding the most is Parañaque City. In 2020, about 200 residents of the city were forced to evacuate their homes due to flooding brought on by Typhoon Ulysses. The water submerged 30 areas in the city, as disclosed by the Paranaque City Disaster Risk Reduction and Management Office.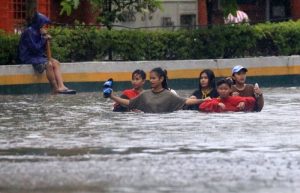 Image from PhilStar
Just last month, an issue with the drainage system of the Skyway system caused flooding at ground level in Bicutan, Parañaque City, which resulted in heavy traffic. While authorities at Skyway O&M Corp assured the public that the area was not known to be prone to flooding, the incident suggests that the area is reliant on one drainage system that can cause the area to flood once it encounters an issue.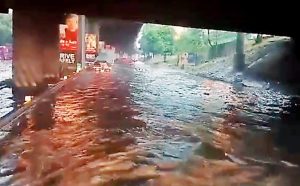 Image from Wheels Philippines
Below is a list of areas in Parañaque City to avoid when driving during heavy rainfall:
East Service Road corner Tanyag

Sucat Road corner C-5 Extension

La Huerta Market

Canayan Road

Daang Batang

Fourth Estate, Sucat Road

NIA Road to Macapagal
Quezon City
Stranded cars in EDSA, water rushing out of drains instead of in, and evacuating families due to knee-deep waters– these incidents are not unusual in Quezon City as it is one of the most flood-prone cities in Metro Manila. Apart from being the largest city in Metro Manila in terms of land area, Quezon City is also home to forty-four tributaries connected to five main river systems that surround 35 communities. When these rivers or tributaries overflow, the communities that they surround are easily inundated.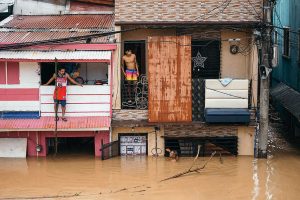 Image from Greenpeace
In the final days of July 2023, Quezon City once again experienced flooding as heavy rains poured overnight. Motorists were stranded along EDSA, Quezon Avenue, and Araneta Avenue as floods gushed down the streets of Biak na Bato and Banawe.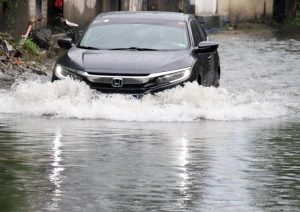 Image from Manila Times
Below is a list of areas in Quezon City to avoid when driving during heavy rainfall:
Commonwealth Avenue, Visayas Ave.

EDSA Muñoz

NLEX A. Bonifacio

Balintawak

Roxas District near Quezon Ave.

Scout Tobias corner Timog

Tandang Sora near Commonwealth
Manila
Due to being a densely populated area with insufficient drainage, Manila City remains one of the most flood-prone areas in Metro Manila. Even with the $500 million Metro Manila Flood Management Project under construction in partnership with the World Bank and the Asian Infrastructure Investment Bank (AIIB), Manila City is still prone to flooding.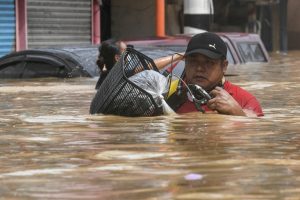 Image from Bangkok Post
Similar to Parañaque and Quezon City, Manila City also experienced flooding recently, when the water collected by the La Mesa Dam in Quezon City flowed to Manila and flooded areas like Taft Avenue. The Metro Manila Flood Management Project includes the upgrade of new pumping stations and the construction of new ones, although the project is set to be completed next year.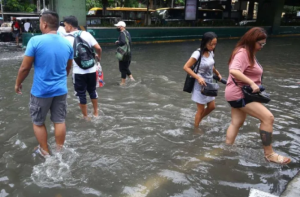 Image from The Manila Times
Below is a list of areas in Manila City to avoid when driving during heavy rainfall: 
España to Lacson

Lagusnilad Underpass

P.Burgos near Manila City Hall

Pedro Gil St.

Quirino Avenue and Taft Avenue going to Roxas Boulevard

Recto to Morayta

Maceda to Laon-Laan
READ MORE: Lagusnilad In Manila Set To Shut Down Operations For 4 Months
Flood Control In Metro Manila
A lot of areas in the Philippines are prone to flooding and it is not just cities in Metro Manila that experience recurring inundation during and after heavy rains. Past and current administrations have made it a priority to improve the flood control facilities of the country in order to reduce flooding and improve the overall quality of life of Filipinos. However, while flooding is still a common occurrence in the country, it is up to the residents to comply with the existing disaster preparedness programs to avoid injuries and other unfortunate circumstances. 
References:
Cabarle, K. (2023, February 3).

Top 10 Flood-Prone Areas to Live in the Philippines

. Construct PH. Retrieved August 2, 2023, from https://constructph.com/top-10-flood-prone-areas-to-live-in-the-philippines/?expand_article=1

GMA Network. (2023, July 28).

Flooding hits parts of Quezon City due to overnight rains

. GMA Network. Retrieved August 2, 2023, from https://www.gmanetwork.com/news/topstories/metro/877194/flooding-hit-parts-of-quezon-city-due-to-overnight-rains/story/

Moneymax. (2023, June 22).

List of Flood-Prone Areas in the Philippines [Updated 2023]

. Moneymax. Retrieved August 2, 2023, from https://www.moneymax.ph/car-insurance/articles/flood-prone-areas-metro-manila

Porio, E. (n.d.).

Floodprone areas in Metro-Manila | Download Scientific Diagram

. ResearchGate. Retrieved August 2, 2023, from https://www.researchgate.net/figure/Floodprone-areas-in-Metro-Manila_fig1_274342848

Sarao, Z. (2023, July 13).

Skyway operator apologizes for Bicutan flooding, initiates corrective measures

. Inquirer.net. Retrieved August 2, 2023, from https://newsinfo.inquirer.net/1801263/fwd-skyway-operator-apologizes-over-flooding-in-bicutan-ground-level-cites-drainage-system-problem-as-cause